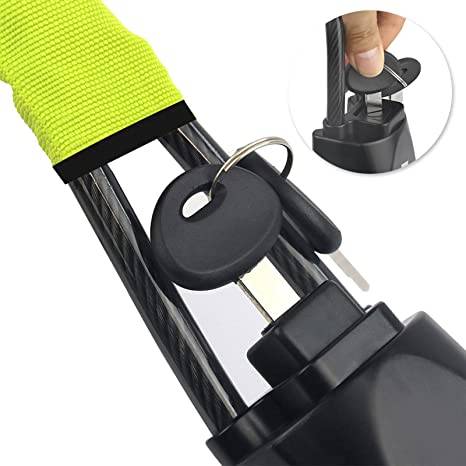 Bright color sleeves are utilized on the steering wheel lock, which is a great theft deterrent. Braided steel wire is wrapped in PVC on the outside to help prevent wear and tear on your steering wheel as well as rusting.
This literally saved my car. TOTALLY RECOMMEND… never leave reviews but I had to leave one on this product!

Super easy! Use the key to unlock and release from the seatbelt and you are good to go. Handy and affordable solution in my opinion and very happy with my purchase.


Very happy with this item , super easy put on and take off . Highly Recommended!


I feel confident that a thief would have trouble removing this device. Super nice product!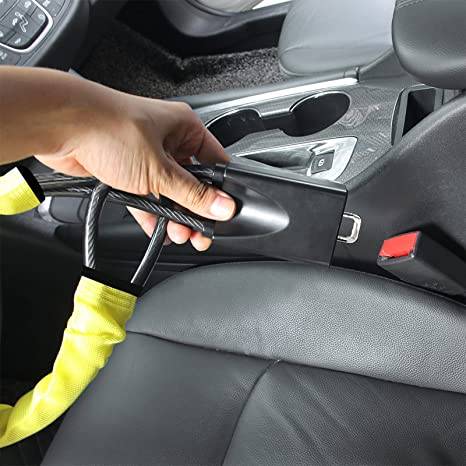 Step 1

: Loop the lock around the lower left of the steering wheel.

Step 2

: Pull the locking part to the seatbelt socket.

Step 3

: Adjust the seat position to lock tightly.

Step 4

: Double check if its tightly lock
Why buy the Car Steering Wheel Lock?
Aside from the obvious benefit of anti-theft, a car steering wheel lock has also other advantages. Like...
HIGHLY SECURE - The strong design of the yellow security steering wheel belt lock will keep burglars out of your vehicle. Your steering wheel and belt socket may become locked as a result. Visible yellow deterrence for bad folks.

EASY TO USE – This security lock is lightweight and compact. Fits and removes in a matter of seconds. Flexible and practical. We don't keep extra keys on hand for security reasons. Please keep the keys in a secure place.

MULTI - PURPOSE - Before getting off the car, the anti-theft seat belt lock can lock your handbag on the seat together. Great deterrent for uninvited guests to avoid your bag from stealing.
UNIVERSAL – Most cars could fit the anti-theft seatbelt lock. It is advised to adjust the seat position to lock tightly, with the maximum length being 17".

RISK-FREE PURCHASE - Don't worry about missing Amazon's 30-day return window. We offer a 120-day, no questions asked returns together with our One Year Warranty. If - FOR WHATEVER REASON – you don't like it, we'll make sure to take care of that. Buy with confidence!
Is this steering wheel lock easy to unlock?
Yes, ensure you push the key fully down while turning it to unlock it.
Will this work with any cars?
Yes, it is universal and most cars could fit the anti-theft seatbelt lock.
Yes, quality materials make this a more durable car lock. The steering wheel lock anti-theft device is made of high-strength braided steel wire which is 5 mm thicker than others and can withstand high tensile and shear forces, giving it greater strength and flexibility.