You may have seen us featured in...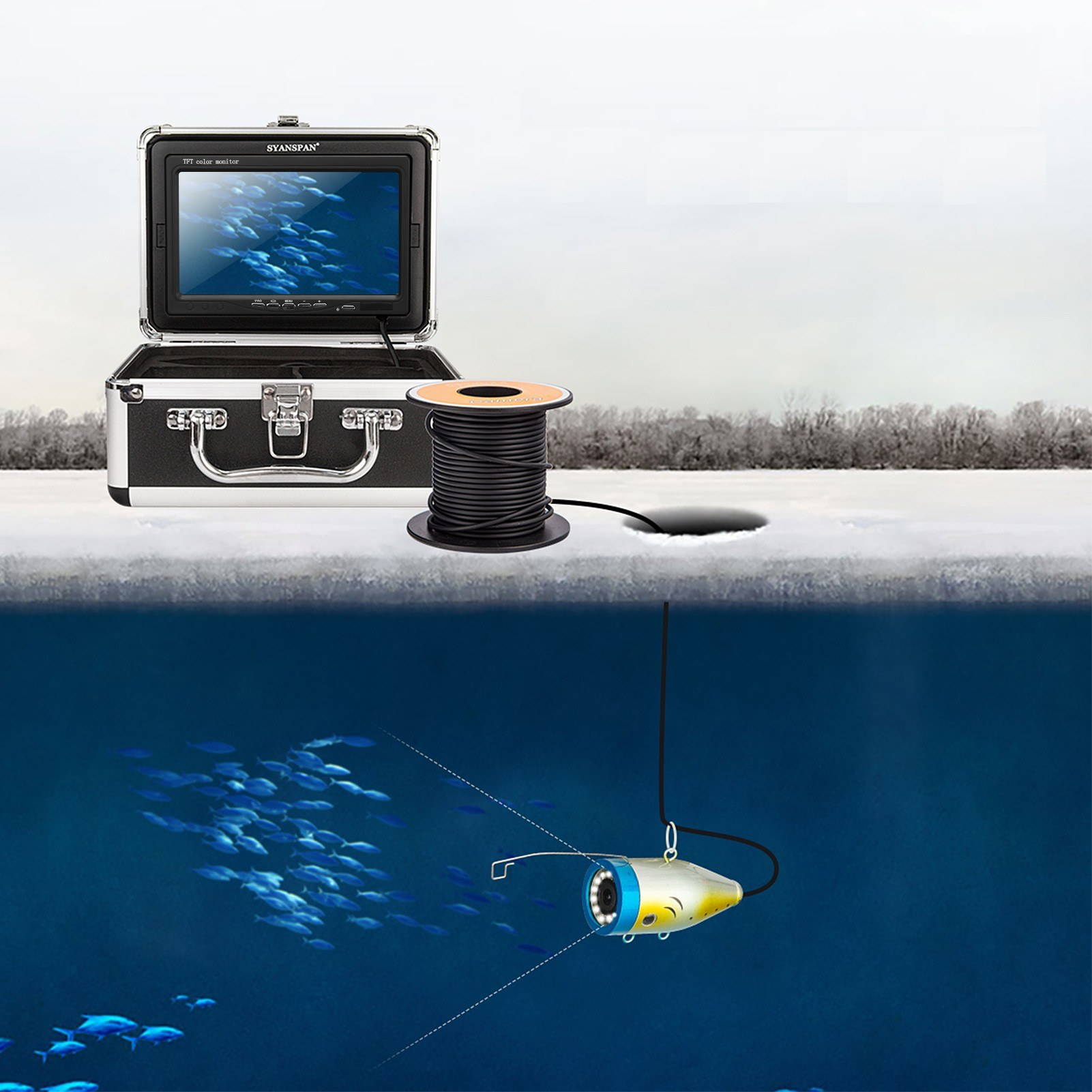 The professional Underwater Fishing Camera with a 7-inch color monitor and 1000TVL camera lens may provide you with a multi-purpose use in an aquatic environment while also providing you with watching enjoyment by displaying underwater activities. It's an excellent equipment for both ocean and ice fishing.
Take advantage of our massive 55% discount TODAY by ordering the Underwater Fishing Camera
It's absolutely easy to setup all you have to do is follow the manual that comes with your Underwater Fishing Camera.
Stun Your Fishing Buddies
Your fishing experience and number of catches will never be the same after you use an Underwater Fishing Camera.
7" Color LCD Monitor: This underwater video fishing camera includes a 7-inch TFT color screen with 800*480 pixels and a detachable sun-visor, making it perfect for use in bright conditions.

1000TVL camera: The camera's definition is up to 1000TV lines, which is clearer than the 800TV lines camera.

12pcs Infrared Lights: In the dark, fish may be seen more clearly with 12pcs IR lights. Please keep in mind that if you switch on the infrared light, the image will become black and white.

Equipped with a Carrying Case: The waterproof suitcase is small and portable, making it easy to transport anywhere.

Up to 8 Hours Working Time: The 4500 mAh rechargeable battery has a continuous working time of 6-8 hours after being fully charged.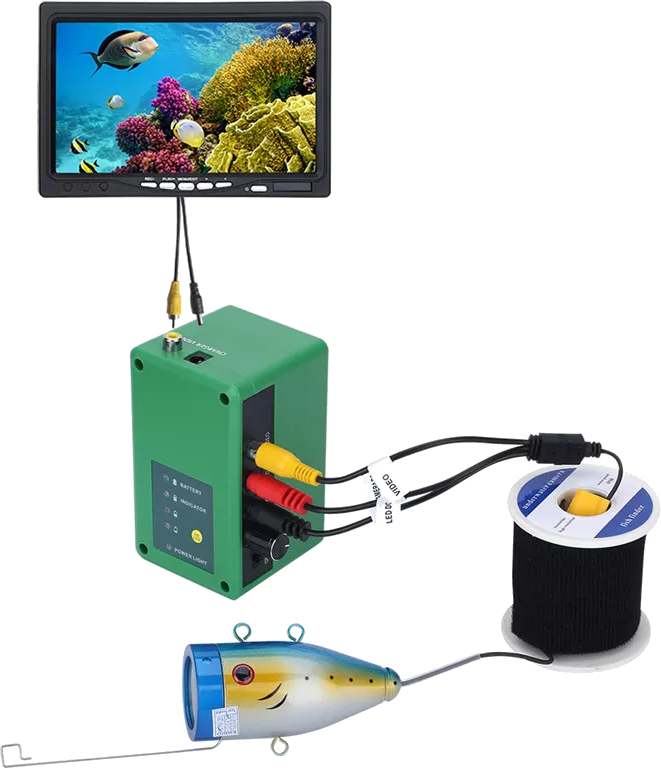 The Specifications Revealed
Display Resolution: 480*960

Monitor Input Voltage: 12V DC

Image Sensor: CMOS Sensor

Visible distance ( clear water ): 1-3m

Night Vision: 15pcs white LEDs, and 15pcs infrared lamps.

Camera: 1000TVL/Aluminum alloy

Camera Size: Diameter 38.5*90mm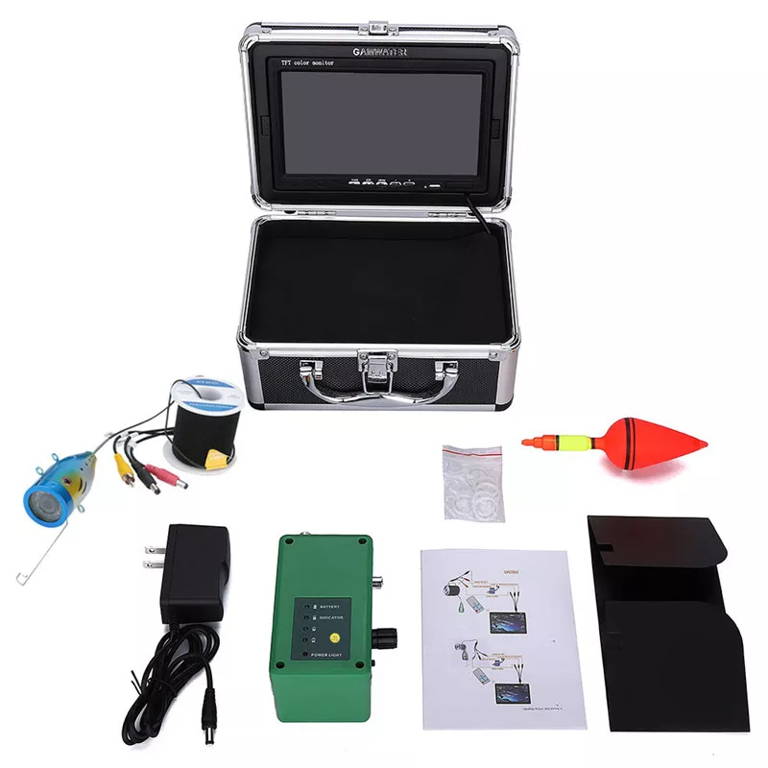 1* Battery (Power Control Box)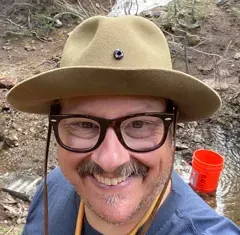 Used the camera about a dozen times now, works great. Comparing it to my buddy's $600 marcum the picture quality is comparable, in murky water you are only going to see so far, normally had 2 feet visibility. His marcum had water temp, camera depth and camera direction. This Eyoyo doesn't have those functions but for 1/5 for the price that's fine. Love the aluminum case, however it will fit down an 8" hole so be careful. Easy to pull battery to take it inside to charge. Great camera for what i use it for, would recommend to my family members.
Zach Lanners,
Westminster, CO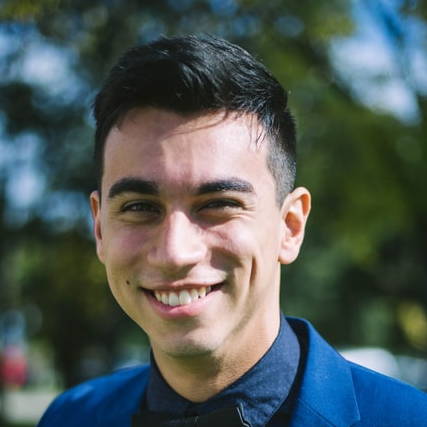 Makes all the difference in the world finding fish, especially for ice fishing. Camera works very well(I used to have an aqua-view - this is just as good). Shape and color of camera never scares the fish either. I attached a picture and video to show this.
David L. Harris,
Oakland, CA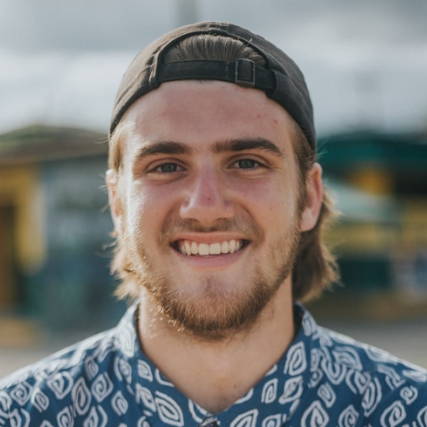 Great underwater camera for the money. This is my third underwater camera that I have bought in the last ten years. I'm hard on equipment and use it under extreme conditions. Used it for the first time in 6 feet of water outside with temps in 20 F. Screen easy to see resolution while daylight without shade.
Pros. Easy and simple to use. Compact. Complete. Can fit back into case after using. Hard case. Price point.
Cons. None yet. We see how this holds up to abuse.
Jason O. Gates,
Frisco, TX
Frequently Asked Questions
Can't Find a Question?
Call us 845-202-0750 or email us support@otarius.com
Are you able to use this device for ice fishing?
Year, this 7 inch fish finder can be used for ice fishing.
Is this camera and monitor designed to be corrosion resistant for saltwater use?
Hi, the camera is corrosion resistant for saltwater use while the monitor not.
To increase camera service life, I still suggest you clean it with fresh water and have it dried before collected it after using it.
Hello, What is the voltage for the charger? 110 V or 220 V?
110 v it plugs into a regular wall outlet
Rated by 4.9/5 by 1471 Happy Users
Rated by 4.9/5 by 1471 Happy Users
READY TO secure your home?
Choose your packge and save big on your order